17.07.2023
What to consider after buying investment gemstones
Natural colored, untreated gemstones are an excellent investment and portfolio diversification. However, the purchase is only the first step. Now it's time to manage the investment and handle the jewels properly. From storage to monitoring performance, there are some important aspects to consider after investing in gemstones.
Compared to all other forms of investment, an investment in gemstones has one decisive advantage: the precious minerals are small and light and can accordingly be easily transported, stored and passed on. However, this does not mean that no thought should be wasted on the storage of the gemstones. On the contrary, proper and safe storage of stones is a must for investors and preserves the beauty and quality of the jewels.
It is advisable to store precious and gemstones individually to ensure that the valuable pieces do not bump into each other and do not get scratched. Because although they are very hard, this does not mean that they are insensitive to mechanical impact. It is best to store investment gemstones in a safe, banks and private lockers are also possible. Upon request, The Natural Gem will also provide insured storage of gemstones in a high security vault. No matter what you choose, it is imperative that the certificate be kept separate from the gemstone.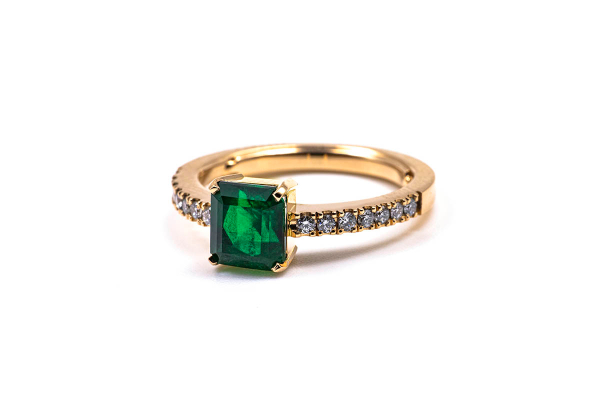 Especially for gemstones in jewelry, care plays a major role because they are worn and exposed to environmental influences. Contact with cosmetics, perfumes and heat can cause some gemstones to change color or crack. Also, one is well advised to keep cleaning products and other household chemicals away from the jewels. Precious opal is particularly sensitive, but the color of turquoise also changes when it comes in contact with oils, fats and creams.
If jewelry loses its luster or is slightly dirty, jewelry cleaning baths available from jewelers are suitable for cleaning it carefully. An ultrasonic bath is only suitable for pure jewelry made of precious metals – not all gemstones tolerate this form of cleaning.
Valuable gemstones should be adequately insured in case of loss or theft. Many household insurance policies include valuables, but it is necessary to clarify up to what amount the gems are included in the insurance. In most cases, additional insurance for investment-grade gemstones is advisable. Investors should also inquire about the amount of insurance for bank safe deposit boxes.
To insure gemstones, you will need a certificate or appraisal from an independent gemological laboratory. At The Natural Gem, customers automatically receive such a certificate for every gemstone with a value of EUR 500 or more. If required, we can also put you in contact with renowned insurance companies.
Most often, additional insurance is advisable for investment-grade gemstones.
Long-term investment horizon
Gemstones serve to preserve value and represent a crisis-proof capital investment. They are suitable as a long-term investment, which is why an investment horizon of at least 5 years is recommended. Especially with natural-colored, untreated gemstones, a stable increase in value can be observed over the last decades. A longer investment horizon allows you to take full advantage of potential increases in value.
Keeping an eye on performance
As an investor, it is advisable to follow the developments on the gemstone market closely in order to always be up to date on the value of the investment. Unlike gold and other precious metals, however, there is no world market price for gemstones. Each specimen is unique and has its own individual price, which is primarily determined by the 4 Cs: Color, Cut, Clarity and Carat. What do exist are price indices, gridded by quality, from various organizations, such as the "Gem Guide".
But one thing is certain: colored gemstones of high quality are always and everywhere in demand. Values from the past are a good indicator of the future performance of gemstones. For example, market prices for natural-colored, untreated gemstones have at least tripled since the mid-1990s.
High quality colored gemstones are always and everywhere in demand.
If you want to resell your gemstones, you should definitely turn to a professional – private sales on online platforms or gemstone exchanges are not advisable for investment-quality gemstones. Reputable dealers, auction houses or jewelers are the right place to go for selling high quality stones. The Natural Gem will also be happy to make an offer for your gemstones.
In any case, for the sale you need the certificate that verifies the authenticity of the stone and describes its individual characteristics in more detail, as well as a photo of the gemstone.