29.03.2023
Where to buy gemstones?
Deep green emeralds, sparkling tanzanites or bright red rubies – gemstones not only please the eye, but are also suitable as an investment and in esotericism they are even said to have a healing effect.
So there are plenty of reasons to buy gemstones. The only question is where to buy gemstones?
What are the different types of gemstones?
Before purchasing gemstones, it is important to figure out which stones you actually want to buy. Because the choice of the appropriate dealer depends on it.
Basically, gemstones are counted among the minerals. Minerals are by definition solids with a chemically distinct composition and certain properties, which is why the nearly 6,000 minerals in the world recognized by the International Mineralogical Association (IMA) as independent can be distinguished from each other.
Selected minerals with certain properties are called gemstones. They stand out for their exceptional beauty, with transparency, luster, and color setting them apart from other stones. It is through the cut that the beauty really comes into its own. In addition, minerals are called gemstones only when they have a Mohs hardness above 7. In addition to beauty and gemstone hardness, the third criterion for designation as a gemstone is the rarity of the mineral. Diamonds, sapphires, emeralds and rubies are among the most valuable gemstones.
To be distinguished from precious stones are so called "semi-precious stones". Semi-precious stones, unlike "real" gemstones, referred to minerals that are more common and less hard. However, the term semi-precious stone is now obsolete and such stones fall under the collective term gemstones. Gems include not only minerals, but also molten glass, pearls, mother of pearl and coral, which are processed into jewelry.
In stone medicine, rough stones are of great importance. These are uncut stones.
High-quality rough stones are more and more often processed into jewelry. The uncut healing stones used in esotericism are minerals that are common and of inferior quality, for example amethyst, rose quartz or lapis lazuli. Uncut gemstones, however, are also of interest to mineral collectors.
To be distinguished from rough stones are untreated gemstones, which may very well be cut, but on which no further artificial improvements such as heat treatment or irradiation have been made. Untreated, natural-colored gemstones of appropriate quality are highly sought after and make good investments.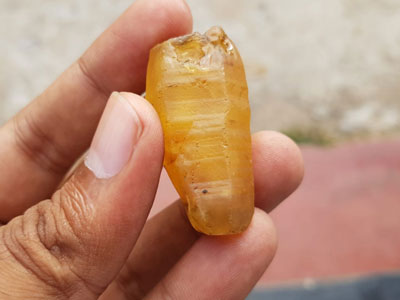 Buy gemstones at mineral fairs or in a mineral store
At mineral exhibitions or fairs, national and international dealers exhibit their specimens. Especially mineral collectors will find what they are looking for, but there is also a lot to discover for enthusiasts. The exhibitors offer minerals, fossils, meteorites and rocks, but sometimes also healing stones and gemstone jewelry for sale or exchange.
Those interested in gemstones will find uncut and natural crystals at mineral fairs, as well as various gemstone specimens where the gemstone is still surrounded by other rocks. They can also exchange ideas with other collectors and dealers, purchase mineral equipment, and discover impressive minerals off the beaten path.
Specialty mineral stores also sell rough stones, druses and crystals that are of interest to collectors. Most often, the goods of such stores are still supplemented by gemstones.
Buy healing stones in esoteric stores
Healing stones, i.e. uncut stones of inferior quality, can be found in special esoteric stores. As a rule, there you can also buy raw stones processed into jewelry in the form of pendants or bracelets.
In addition, there are in the esoteric trade to buy tumbled stones. These are irregularly round gemstones that have been cut and polished in a drum. This type of processing leaves the shape of the tumbled stone to chance, making each tumbled stone unique.
Healing stones can also be conveniently purchased online. There are numerous web stores that offer a wide selection of rough stones. How the ordered stone actually looks, however, can be determined with an online purchase only after the order has arrived. Because each specimen is unique and so each rough stone differs in color, shape and size from the others.
Buy gemstone jewelry from a jeweler or jewelry designer
Costume jewelry or gemstones processed into jewelry can also be obtained in specialty mineral stores and esoteric stores, but anyone looking for high-quality gemstone jewelry should contact a jeweler or jewelry designer.
In order for gemstones to be made into jewelry, they must be hard enough and have a low brittleness to prevent them from splintering during processing. It should also be noted that some minerals are sensitive to light and heat, which causes them to lose color intensity. To increase the quality and longevity of the stones, they are artificially hardened or fired to intensify the color.
Basically, the focus of a jeweler or jewelry designer is the jewelry and not necessarily the gemstone itself. It is not for nothing that gemstones are of lower quality than precious stones used as an investment.
Buy investment gemstones from a gemstone dealer
Certain gemstones such as natural colored, untreated rubies, sapphires, emeralds and colored diamonds, but also tourmaline, tanzanite and alexandrite are very suitable as an investment.
Precious gemstones have been used as an investment for more than 5,000 years. They have survived all financial and economic crises unscathed, are easy to transport and store, and are an excellent addition to an existing investment portfolio.
When purchasing gemstones for investment purposes, it is recommended that you purchase the highest quality jewels possible. In any case, you should only purchase investment stones from a reputable and experienced dealer who will provide you with an independent certificate from an internationally recognized gemmological laboratory upon purchase. Gemstone purchases on vacation are not recommended. The authenticity and quality of the stones cannot be verified by laymen and the supposed bargains often turn out to be overpriced at a later appraisal. Especially when buying investment-quality gemstones, you should trust experts from home.