16.01.2023
The history of gemstones
Gemstones have existed since time immemorial. There is hardly anyone who has not been in contact with them. Whether in the cosmetics industry, where they are used as massage utensils, or in astrology, where each planet is attributed its own stone as a protective stone. Gemstones even appear in medicine. The famous Benedictine Hildegard von Bingen, for example, attributed great importance to gemstones and used them as healing gemstones for therapeutic purposes.
Find out everything about the history of gemstones and what significance they had for the people of the respective epoch and still have today.
The oldest known gemstone jewelry was already made by the Neanderthals. This is proven by archaeological findings made in the Cueva de los Aviones cave (southeast Spain). Shell finds had small holes in them. Archaeologists found out that these small holes were once studded with red gemstones called hematite. Thus, it is scientifically confirmed that the first pieces of jewelry date back to about 15,000 years ago. However, among the oldest gemstones found so far are diamonds, which were formed about 4.4 million years ago.
The gemstones used in the Stone Age were those that were easy to find and easy to work. Therefore, amber is most commonly found as gemstones of the time. The fossil resin can also be easily shaped with simple tools. Other gemstones that were already known in the Stone Age are turquoise, coral, lapis lazuli and malachite.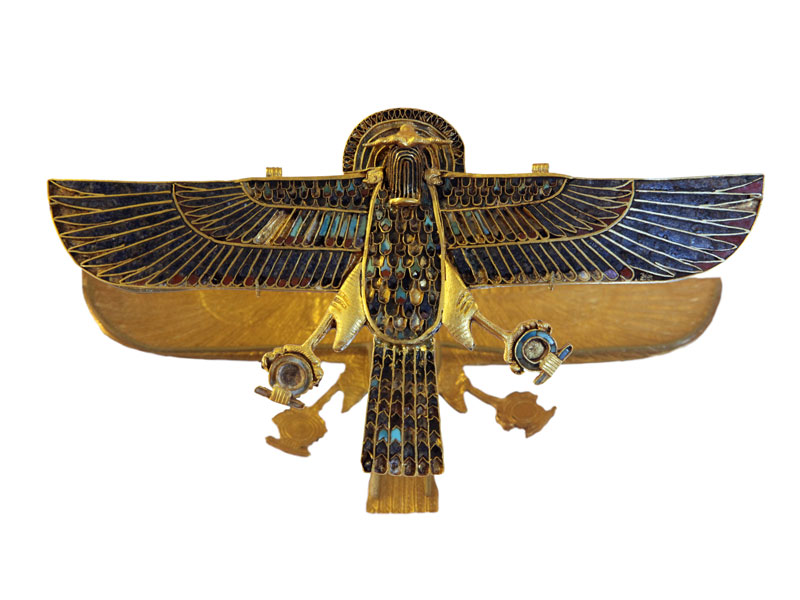 Egypt
The Egyptians – not for nothing known as one of the most advanced civilizations of the ancient world – developed very early craft techniques that are still used today. These include: engraving, chasing, driving as well as gilding and silvering. Through these special techniques of metalworking, it was possible for the Egyptians to produce entirely new types of jewelry. Early on, they imported stones such as lapis lazuli, turquoise, and carnelian from countries such as Afghanistan and Turkey to make into jewelry. These jewelry pieces were then given to high-ranking personalities as burial gifts so that they could live an abundant life after death. To meet the great demand for funerary offerings in jewelry form, the first blast furnaces were also built at this time.
Greece
Known as the cradle of European jewelry culture, there was initially a severe restriction on jewelry production. This was due to a shortage of gold and other precious metals. It was not until the victory of Alexander the Great over the Persian king Darius, which brought huge quantities of gold to Greece, that jewelry production experienced an upswing. By far the most goldsmith's work has survived from this period. Jewelry formerly made purely as burial objects was now made for the better-off. A striking piece of jewelry from this era are elaborate diadems decorated with pearls and precious stones.
Rome
At the beginning of the Roman Empire, jewelry and thus gemstones played a rather minor role. Pearls were used as a means of payment – but jewelry making was not pursued. This changed abruptly when King Constantine elevated Christianity to the state religion of the Roman Empire. From then on, necklaces played a major role. Especially crosses were very popular. These were often opulently set with precious stones. Especially popular at that time were opals, emeralds, sapphires and rubies.
Unlike in antiquity, precious stones in the Middle Ages served on the one hand to demonstrate status. The more gems someone possessed, the more powerful he was. On the other hand, gemstones were also popularly collected because of the magical abilities attributed to them.
Unique in Europe are the gemstone walls that Emperor Charles IV had built for the Wenceslas Chapel in St. Vitus Cathedral in Prague and at Karlštejn Castle. These were to represent the reflection of paradise and thus demonstrate his power. Gemstones used were: Amethysts, chrysoprase, agates, jasper and onyx, all stones that were mostly found in northern Bohemia (a region in the Czech Republic).
Medieval people also believed that the magical properties of gemstones could be enhanced by inscriptions. Numerous rings from this period have been found bearing just such inscriptions. For example, one of these inscriptions in a 14th century ruby ring, augurs good luck to its wearer. Another, the inventory list of the Duke of Burgundy's treasury from 1455, states that it was supposed to make childbirth easier for women. Some stones were also said to have the ability to detect poison.
In modern times, gemstones are still processed as jewelry stones. However, industry has also discovered them for itself. For example, diamonds, considered the hardest material in the world, are used in the grinding industry to grind steel and stone. Rubies, for example, were used in the very first lasers ever built in the early 1960s. Nowadays, however, these lasers are no longer of great importance, as their efficiency is no longer guaranteed. In dermatology, however, ruby lasers are still used because they produce good results in the treatment of pigment spots and the removal of tattoos.